Women from Talasea in West New Britain Province attend a week-long training with the National Agriculture Research Institute (NARI) in Kerevat, East New Britain Province
Agriculture has become a key focus of economic empowerment, particularly for women.
Women in rural areas are now learning how to empower themselves and their families through agriculture and livelihood training with the support of the Australian Government in partnership with the Government of Papua New Guinea.
The training took place under Australia's partnerships with District Development Authorities in six target districts – Talasea in West New Britain, Nuku in West Sepik, Mul-Baiyer Lumusa in Western Highlands, Nawaeb in Morobe, Sohe in Northern and Manus Provinces. The partnerships aim to strengthen local governance and support the Government of PNG's priority of empowering provinces and districts to improve local services and economic opportunities.
Rachel Rabura is from Ukuni village in Mul-Baiyer Lumusa, and has been striving to earn a living to support her three sons after her husband passed away 11 years ago.
"My sons were barely in their teens, when I was left with the hardship of caring for them myself," said Rachel.
"Life was very hard, sometimes I felt worried how I would stay sane while trying to care for my children."
Last year, Rachel participated in an Australian-supported training on family farm teams, to learn how to transition from subsistence farming to income farming as a family team. The training program targets the head of households, particularly widows and single mothers, who rely on farming to care for their family.
"Family farms training has helped me to involve my sons more in our home affairs, by sharing responsibilities and making decisions together."
Rachel now has a flourishing garden of bok choy, peanuts, watermelon, sweet corn and cucumber, as well as chickens and a small trade store. The training has helped increase her income and save for her sons' education.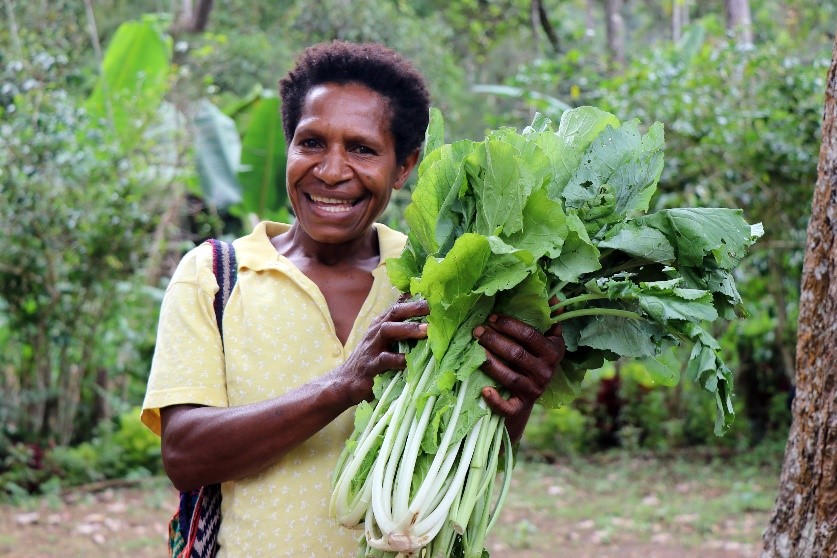 On the other side of the country, women have been learning the latest agricultural techniques to increase productivity and ensure food security.
Thirty-five women from Talasea attended a week-long training also funded by Australia and supported by the National Agriculture Research Institute (NARI) in Kerevat, East New Britain Province, to learn about new agricultural methods to improve productivity.
Roselyn Auka who was among the 35 participants, runs West New Britain's only 'meri safe haus' (women's safe house). Affectionately known as 'Mama Roslyn', she opens her home to up to 30 women seeking care, counselling and a safe place to stay following domestic violence.
"Many of the women are battered – not just physically, but emotionally," said Mama Roslyn. "So we try to help by teaching them little skills to help sustain them."
Roslyn has since planted 125 taro seedlings using NARI's organic cultivation and fertilisation techniques and plans to expand her vegetable garden from consumption to commercial use to help more women.
In line with Talasea District's five-year development plan, the NARI visit was part of efforts to drive community development and support agriculture as a livelihood activity. The trip was organised by Agatha Kapi, women's representative for the Talasea DDA, who is a strong advocate for the empowerment of women and girls in her district.
"Women need to be given opportunities to transform their lives and make a difference in their communities. Women also need to be more involved in development and achieving the goals in the district development plan," said Agatha.
"I wanted our women to gain confidence and, as a ripple effect, be role models to younger women and girls in the community."
Over the last six months, over 210 people, including 160 women, have been trained at the district-level in better farming techniques to help them progress from subsistence to cash crops.